Specialty Wine & Spirits
At Riverside Foods you'll find a comfortable selection of specialty wines and craft spirits. Our wines are sourced from across the world, and we prioritize unique wines that over-deliver for the cost.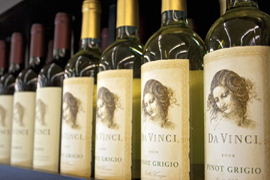 We offer 5% discount on the purchase of four or more wines. Looking to special order a case or more? We can help you plan ahead for your party and provide 10% discounts on case orders placed in advance.
Contact Peter@Riverside-Foods.com or at (708) 447-0324 x 1 for help today!.
Craft Spirits are our niche! We carry a unique selection of craft spirits. Did you know Riverside is home to a fantastic distillery named Quincy Street? They distill outstanding artisan whiskies and spirits right here in town, and we proudly carry everything they make. Take a peek at our Craft Spirits selection during your next visit, and find yourself a great Bourbon Whiskey, Organic Vodka or Raspberry Liquor. Here are some of the distilleries we love to support!
---