Specialty and Organic
Although we cherish our rich history, we also take pride in responding to our customer's changing needs. Whether it be gourmet cheeses, organic wines, or gluten-free cookies, we aim to provide an array of selection, without forgetting the day-to-day needs.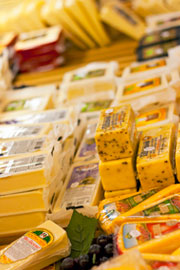 We often hear our customers mention how they came for something simple like cereal, but ended up with a basket full of things like sea salt pita chips, meat rubs made from a nearby company in Cicero, soy yogurt, and Shiritaki fettuccini. We believe that the size of our store, and our personable staff, allow us to appease all types of shoppers. If we don't have what you are looking for�ask us, and we can help. If you tried some fantastic item, and want us to carry it...tell us about it. We want to grow with our customer base. While shopping in our store, please notice the green "organic" and yellow "gluten-free" signs can help identify the right specialty groceries for your dietary needs.
Be sure to check out our:
Sugar-free sweets, and gluten-free breads
Extensive organic and Midwestern origin fresh produce
Local, craft beers and spirits
International and organic wines
Boar's Head deli meats and cheeses
Organic beef, organic poultry and gourmet Berkshire pork (US Grassfed Beef coming soon!)
Extensive selection of organic, soy and lactose-free dairy
Asian, Hispanic and European imported section (expanding soon!)
Gourmet cheese table and specialty bread stand
Local refrigerated beverages from Chicago like Filbert's and Green River