Fresh Meat Department
Our meat cutters offer over 40 years experience in cutting meat and customer service. Special orders are always welcome! We offer a wide selection of ready to cook marinated and gourmet cuts. We only use domestic beef, pork, lamb, veal and poultry in our fresh meat department.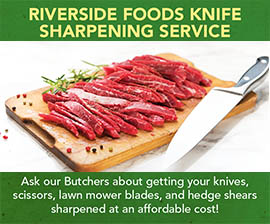 We buy from locally owned fresh meat and poultry suppliers of U.S.D.A. meats. We carry Choice Black Angus Beef, Miller Amish all natural chickens, Rosebud Farms Poultry, and U.S.D.A. choice or prime veal and lamb. We also have a great selection of ready to cook frozen meat products to choose from. Our homemade sausages are very popular and are handmade fresh daily.
We are continuously searching the market to provide our customers with the highest quality meats at the best value..
Holidays are our specialty! We take pre-orders for Hoka or Rosebud Farms fresh turkeys to guarantee you the size and quality that your Thanksgiving/Holiday table demands. Our counters overflow with fresh and delicious Easter Lamb and Hams. Crown Roast and Stuffed Lamb Roasts are just a couple of specialty items that are in-house Butchers can create for you.
Our professionally trained and Union (UFCW) Meat Cutters are available for advice and cooking ideas and they are always happy to take your preorders for an easy no wait pick-up for any special cuts or large orders.
---