Deli
Our enthusiastic deli staff is always available to freshly slice your meats and cheeses and to custom make your sandwiches to your specifications.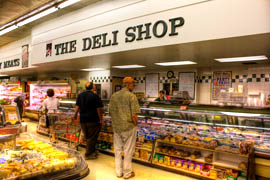 Our Service Deli Department offers a wide selection of homemade and seasonal salads. Try our famous Pico de'Gallo and our very popular Chicken and Tuna Salads.
We carry a wide variety of high quality deli meats and cheeses specializing in Boar's Head and Daisy Brand/Crawford Sausage products. You will also find Sara Lee, Butterball, Eckrich, Land o'Lakes and Reser's Salad items. Come in to see what our daily in-store sales are. Sampling is always available upon request.
See our Deli staff to help you choose the right deli tray for your next party or event. You will be impressed by our artistic, hearty trays, and by our wide selection. Please allow twenty-four hour notice Monday thru Saturday, and forty-eight hours for Sunday pickups. Come in to see our brochure and pricing for our custom made Deli Trays.
Hot Deli
Our Hot Deli Department is open seven days a week for our famous Wonder Roast Rotisserie Chicken. Our crispy and juicy Chesterfried Chicken is available Monday thru Saturday. At our hot deli counter you will also find a delicious selection of sides and baked entrees such as our Spanakopita (spinach cheese puffs,) tasty and meaty BBQ Spare Ribs, and delicious Jumbo Shrimp (Friday's special.)
Try our delicious fried chicken for your next party. Please order twenty-four hours in advance so we can ensure that your trays of chicken will be hot and fresh!
---